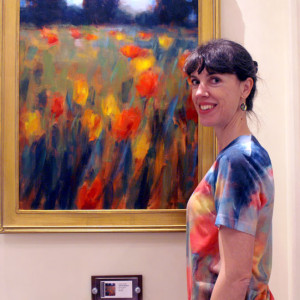 All-while growing up in California, Claire Hardy loved to drawing. Early on, her art teacher recognized her talent and taught her shading and how to create the illusion of form. Hardy began drawing realistically and has since continued with realism as her signature style.
While earning her business degree at the University of New Mexico, she continued taking art classes.  Post-graduation,Hardy sought classical art instruction. This training brought her to study at the Art Institute of Florence, Italy. It was there, while in total immersion, that she threw herself into oil painting.
She backpacked through Europe and the Middle East for five months studying art, culture and history and then moved to Sewickley, PA. By day, she worked as a graphic designer. By night she painted still life studies. Claire began showing her work in local galleries and then expanded to galleries in Santa Fe, NM.
Since 2010, Claire has been painting full time and opened a professional studio. She continues to study and experiment with oil painting, always eager to get to the next painting. She served on the executive board of the Pittsburgh Center for the Arts, and later as president, Pittsburgh Society of Artists.  Her work can be found in numerous private collections in Pittsburgh, the Southwest, Canada and Europe.
Education
Art Institute of Florence, Italy    Study Abroad Summer Programs 2001 and 1999
Oil Painting, Watercolor Painting, and Sculpture
University of New Mexico  B.B.A., Business Mgt. – Entrepreneurial Studies, 1996
Graphic and Multimedia Design Certificate, 2000
Watercolor Painting, Chinese Brush Painting,
Abstract Painting, Gesture Drawing