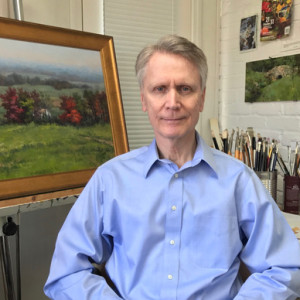 Leo is an award-winning artist from Western Pennsylvania. The inspiration for many of his paintings comes from his love of nature, his love of the outdoors and the beauty that he finds there.
Even though Leo wants people to see the realism in his paintings, he attempts to impart a unique perspective and a certain mystery through his use of impressionism. He likes to use the effect of light on color as a means of expressing his artistic impressions.
He hopes to reach his audience with a truthful yet interpretive rendering of his subjects  which he incorporates into his paintings.
Leo has received numerous awards for his paintings including:
Grumbacher Gold Medallion Award – 1st Prize
Western Pennsylvania Exhibition – Best in Show Award
Winsor & Newton International Art Competition – Finalist Award
Paintings accepted into the Aqueous Open International Juried Shows
Paintings accepted into the American Impressionist Society National Juried
Exhibition
Paintings accepted into the Salon International Juried Exhibition
Art Renewal Center International Competition – Finalist
Oil Painters of America Eastern Regional Exhibition – Finalist
Besides several One-Man Shows, he has exhibited at the Art Institute of Pittsburgh, Chadds Ford Gallery, Three Rivers Arts Festival, PNC and Mellon Banks, Bella Arte Gallery, Watercolors Gallery, John Stobart Gallery, Frank Malega Museum, Third St. Gallery, McBride Gallery, Gallery 30, The Artsmiths of Pittsburgh, and Bock Tott Gallery.
Leo's paintings can be found in numerous private collections including the Duquesne Club of Pittsburgh and the following Galleries:
McBride Gallery – Annapolis, MD
Bock Tott Gallery – Sewickley, PA
Gallery 30 – Gettysburg, PA
The Artsmiths of Pittsburgh – Pittsburgh, PA
You can view more of his work HERE