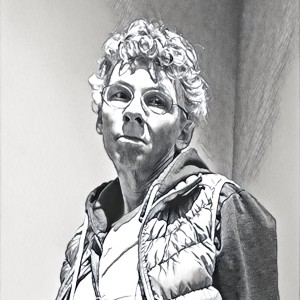 I lived in Bandung, Indonesia for 5 years during my early childhood and was influenced by the culture and art of Southeast Asia. The intricate organic patterns found in the stone Mosque's batiks, woodcarvings and mural's, integrate into the natural world effortlessly.
Creating classical forms and fusing the indigenous process of horsehair reduction is the basis of my work. Combining pieces made from different clay bodies to build large forms is adding another dimension to my process.
I am drawn to the intimate and painterly approach of horsehair reduction. The color of the heat on the ware creates the canvas.  The act of painting with burning hair creates smoke and line. The carbon embeds into the layers of the clay resulting in translucent layers of line and smoke. The process demands acute awareness of specific moments in time. The temperature is determined by the color of the piece while being fired.
The piece tells the story of each of those moments.  A wisp of smoke created by a hard line of horsehair reduced at a moment when the temperature of the piece is perfect to receive the hair. Firing the piece is instinctual and fluid compared to the building of the form which is calculated and precise.
I have taught Art in multi-cultural schools for many years and process has been my CORE Standard for teaching Art. I use Instagram to exchange ideas and process with people all over the world. Follow me #fineartsbysandra
You can view more of her work HERE